Sphynx Personalities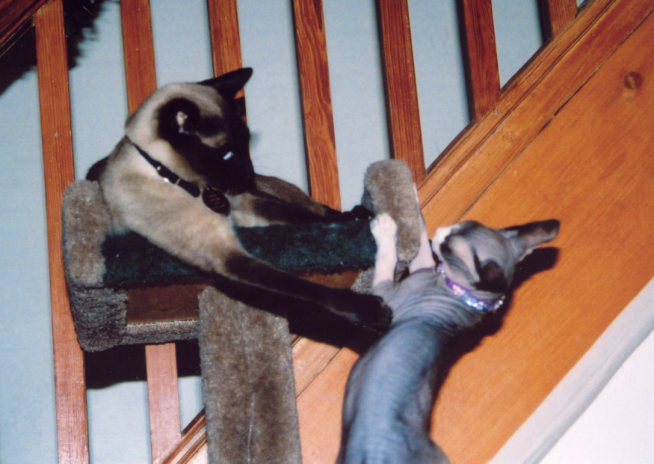 Without a doubt, Sphynx have the best personalities. Sphynx adore people and other animals - they are very dog-like in personality. They are well known for being outgoing, performing silly monkey-like antics to get attention, they will provide much entertainment for you and your family. Sphynx are a good pet for a home with children as well.
If you want a cat that that is friendly, affectionate and outgoing... and you are willing to give her the attention she needs... a Sphynx is for you!!
And if you do not believe it, go visit any Sphynx cattery and you be a believer and will want one... or two!
Another note: As with any cat breed, Sphynx have general personality tendencies, however there is a spectrum and while Sphynx are generally friendly, outgoing and playful, there are ones that may not be. Please make sure that you visit the cattery and see the cats first. This way you can see the condition of the cattery, how the kittens are socialized, etc. If that is not possible, inquire with the breeder about the personality and request at least 2-3 buyer (not breeder) references. You may want a 'lap cat' or a more outgoing cat or a quieter cat. Figuring out what you want is the best way to ensure you and your future companion have a great life! Your breeder should be willing to assist you and give you honest judgments.