Citizenkat kittens living in happy pet homes!!!
It is hard to find a good breeder who cares and is educated about the animals and can assist you in the future with almost anything. It is even scarier to trust someone off the internet. If you ever have any questions about referrals or want some from previous pet buyers, I am always happy to give them. We also welcome visitations for serious pet inquiries.
Daisy, Bluebell and Archibald
First Alan & Patti got Daisy (2nd from left) from CitizenKat... then BlueBell (right) and Archie (3rd from left) followed about a year later.
They live with their brother Spencer and Fluffy. It is easy to see they all love each other!!!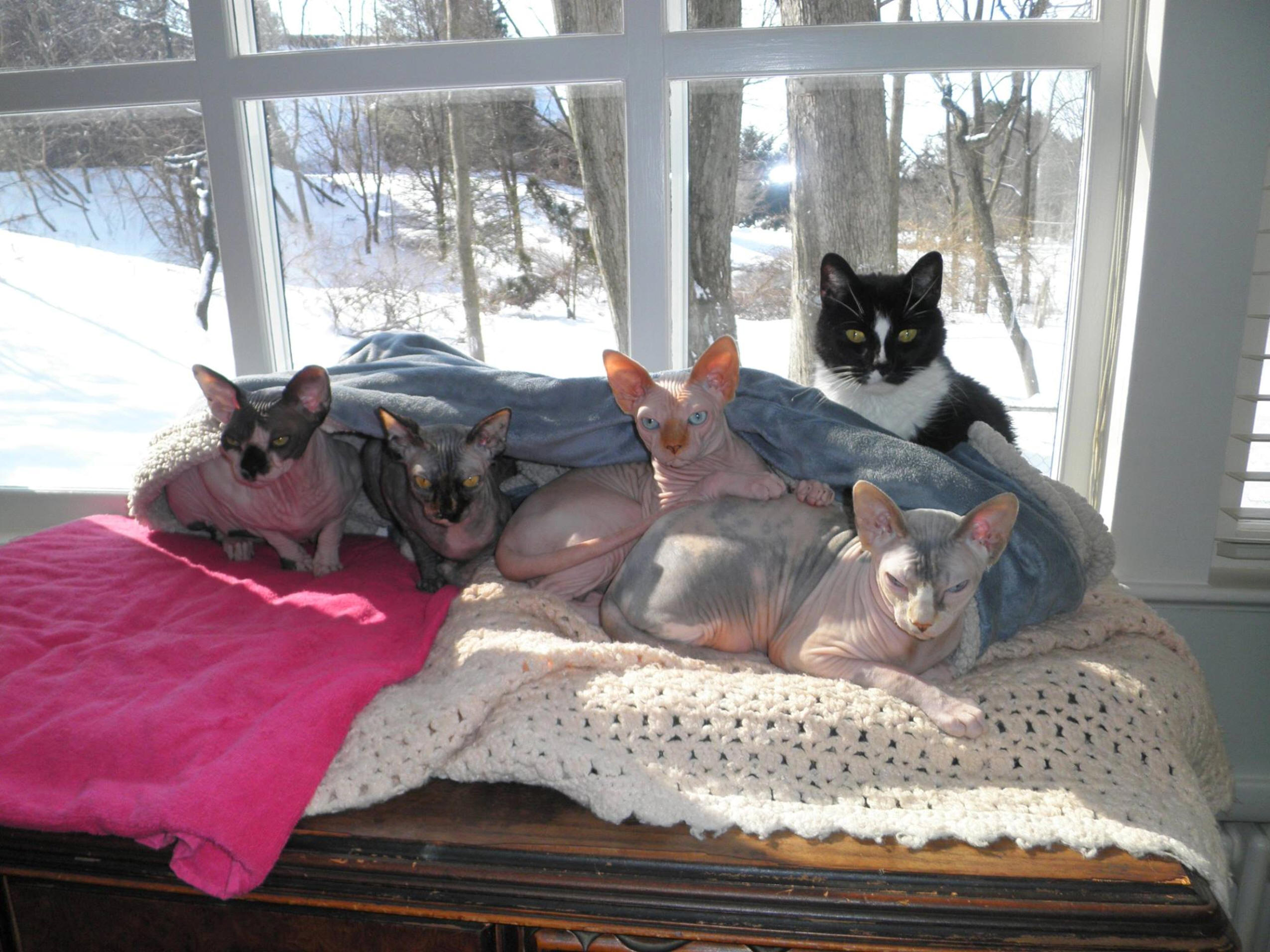 Phineas (2014 scanned HCM normal too!)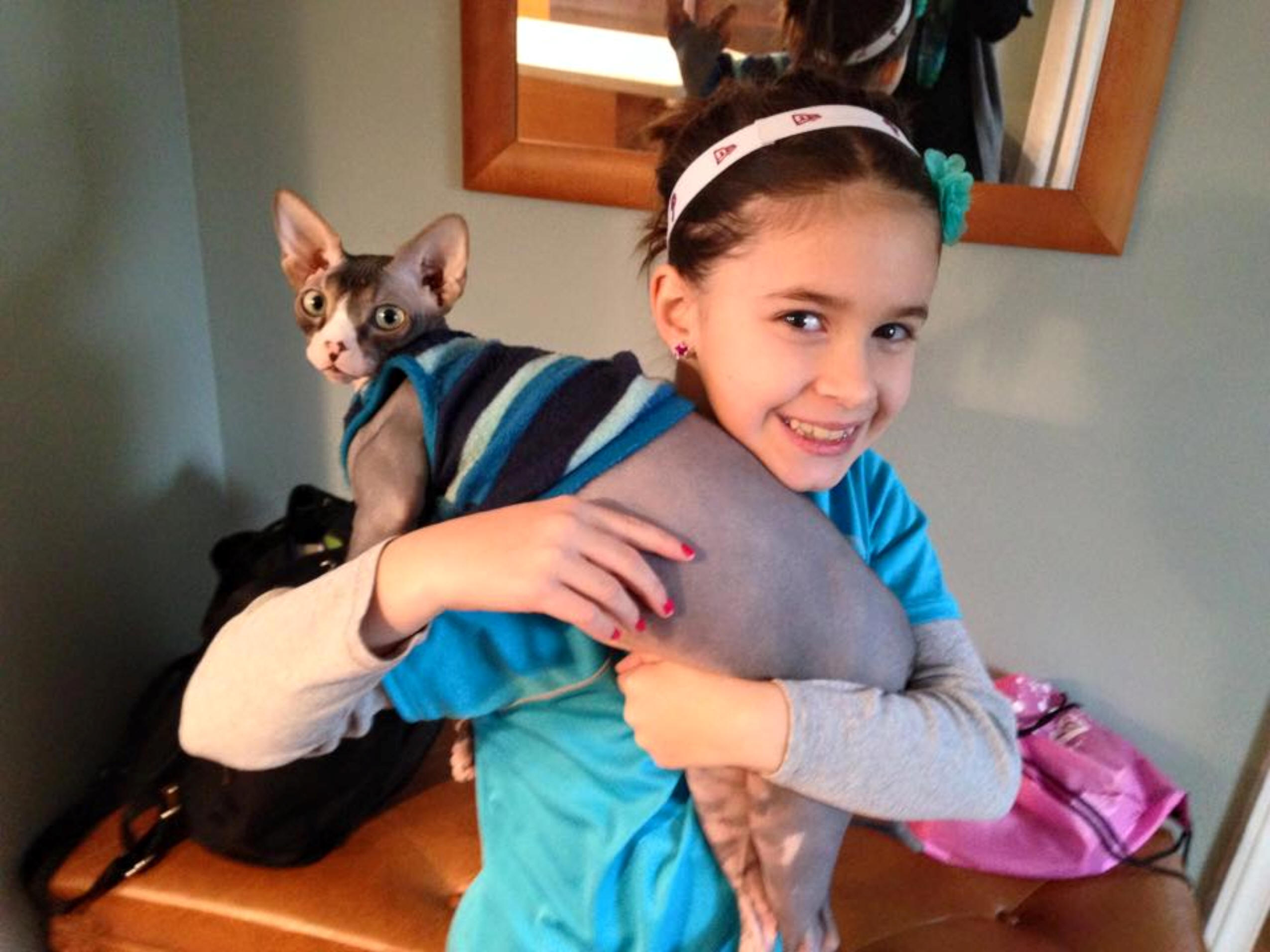 Ramses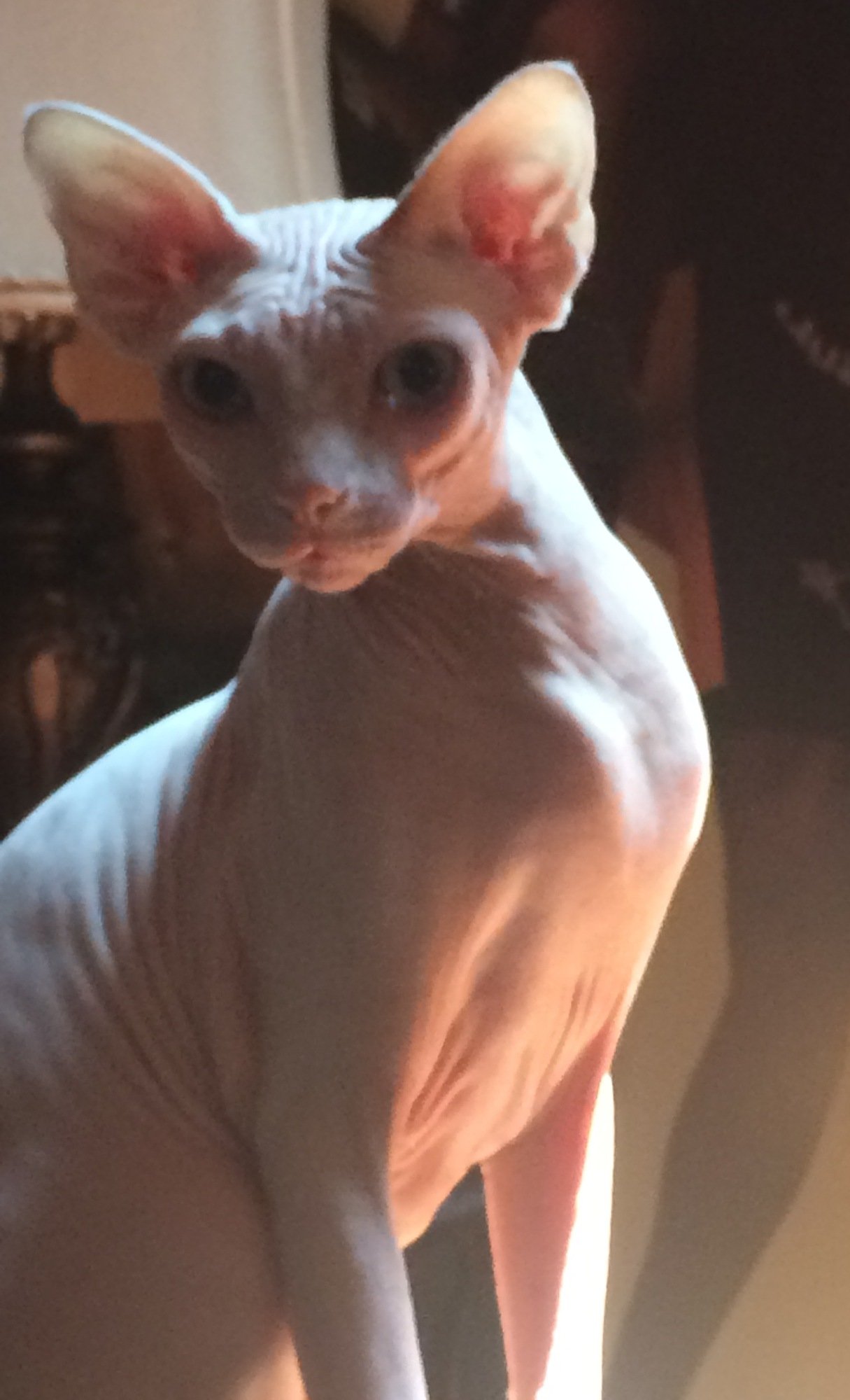 Paris with her human sister! Such love.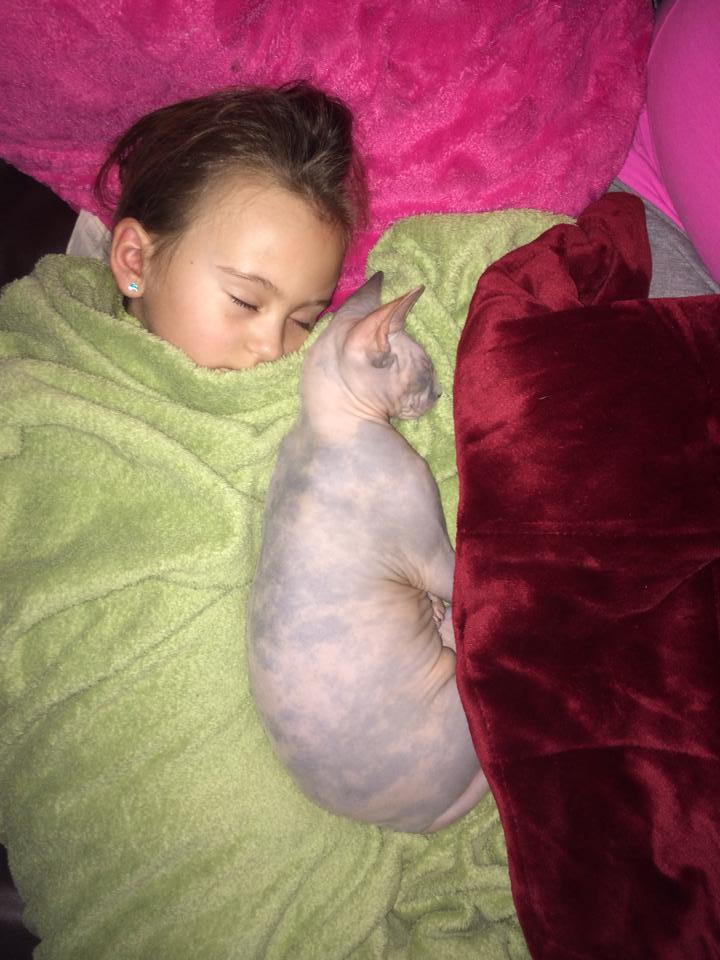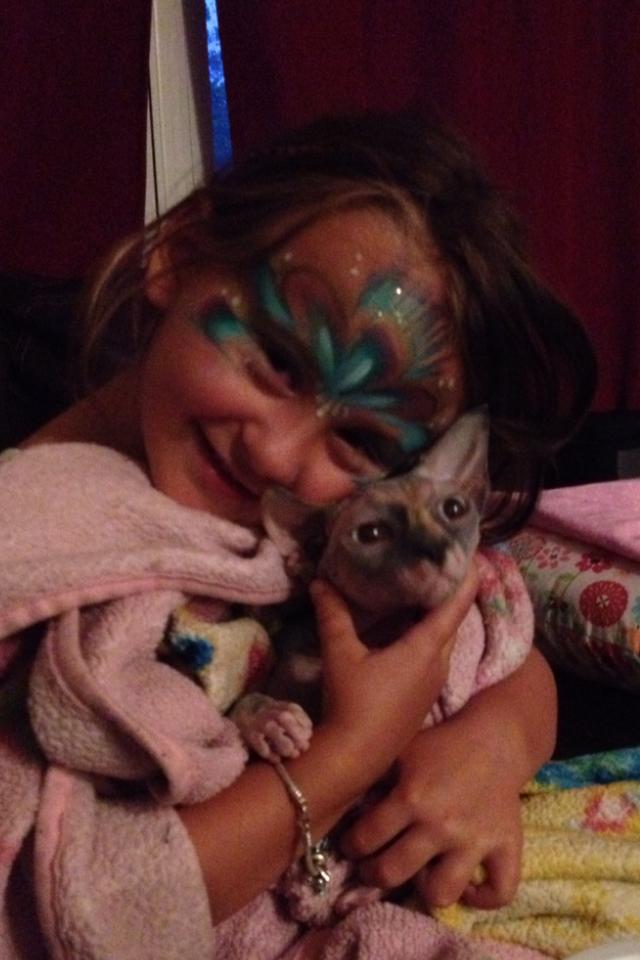 Xerxes & Viola
Morgan D. - I can't imagine my life without Sphynx. They are the sweetest, most intelligent cats I've ever owned. They're extremely affectionate, come when called (usually), and always want to be near us. I thought I'd had affectionate cats before, but these two are so loving. I am now addicted to Sphynx.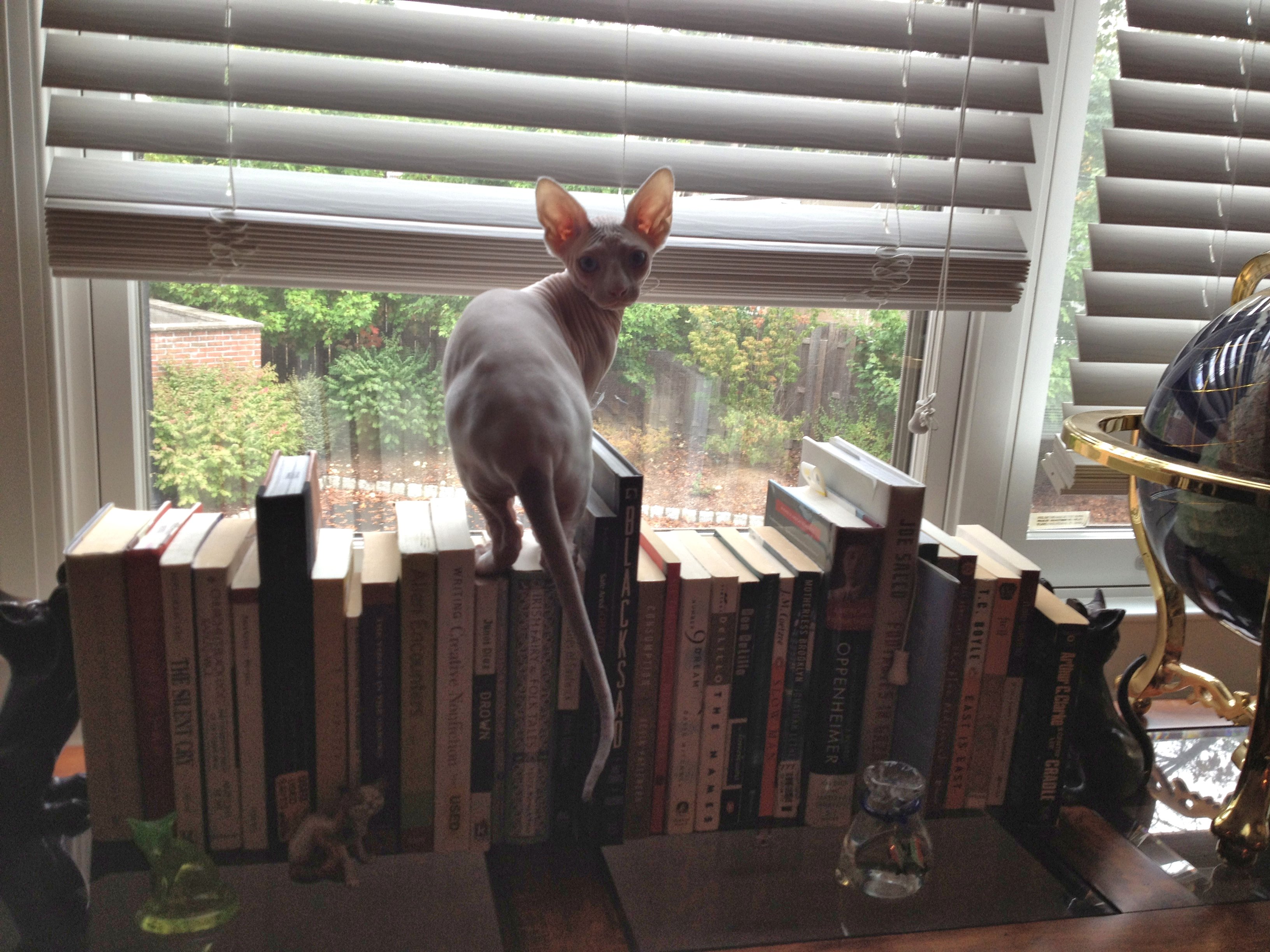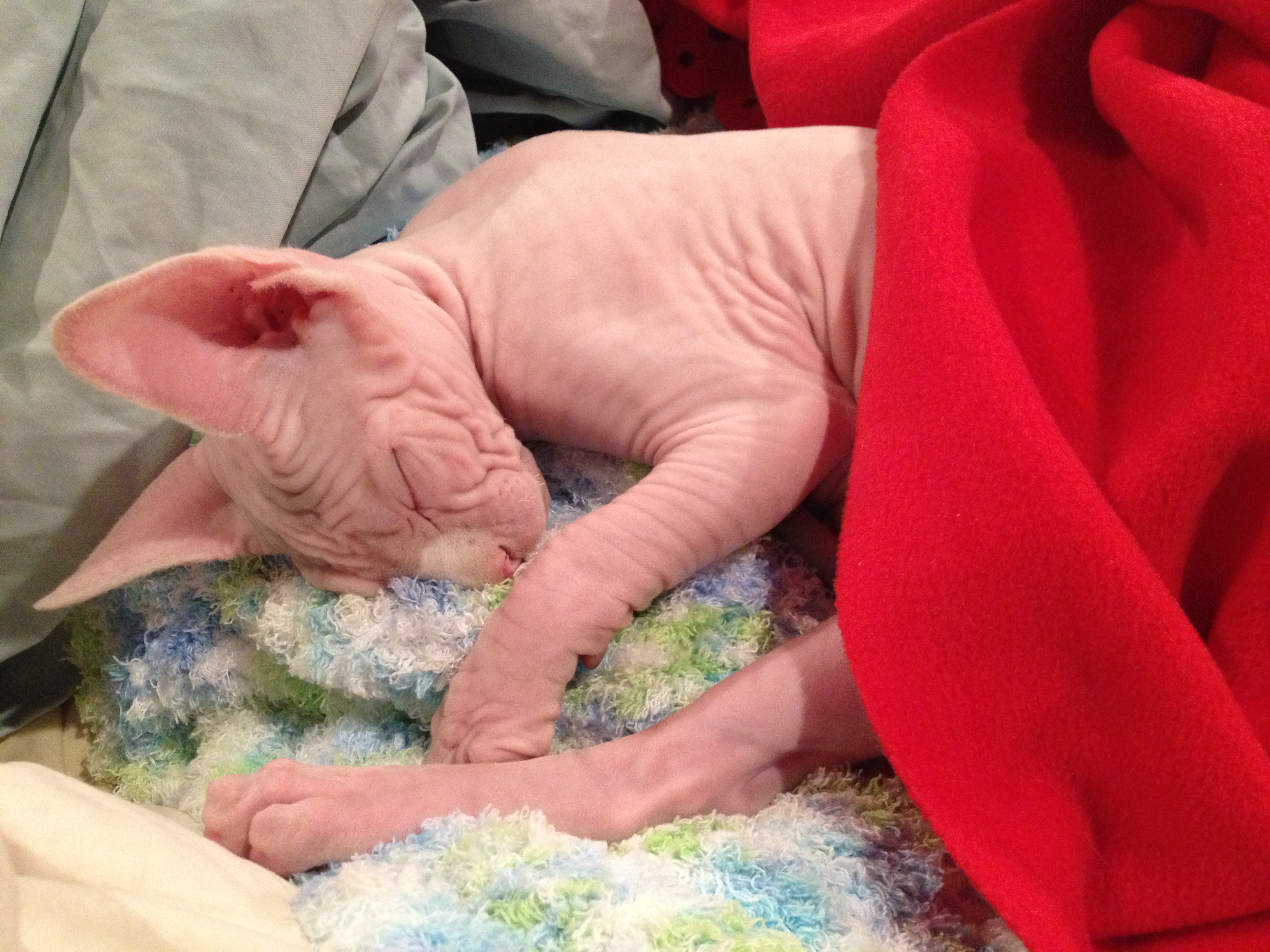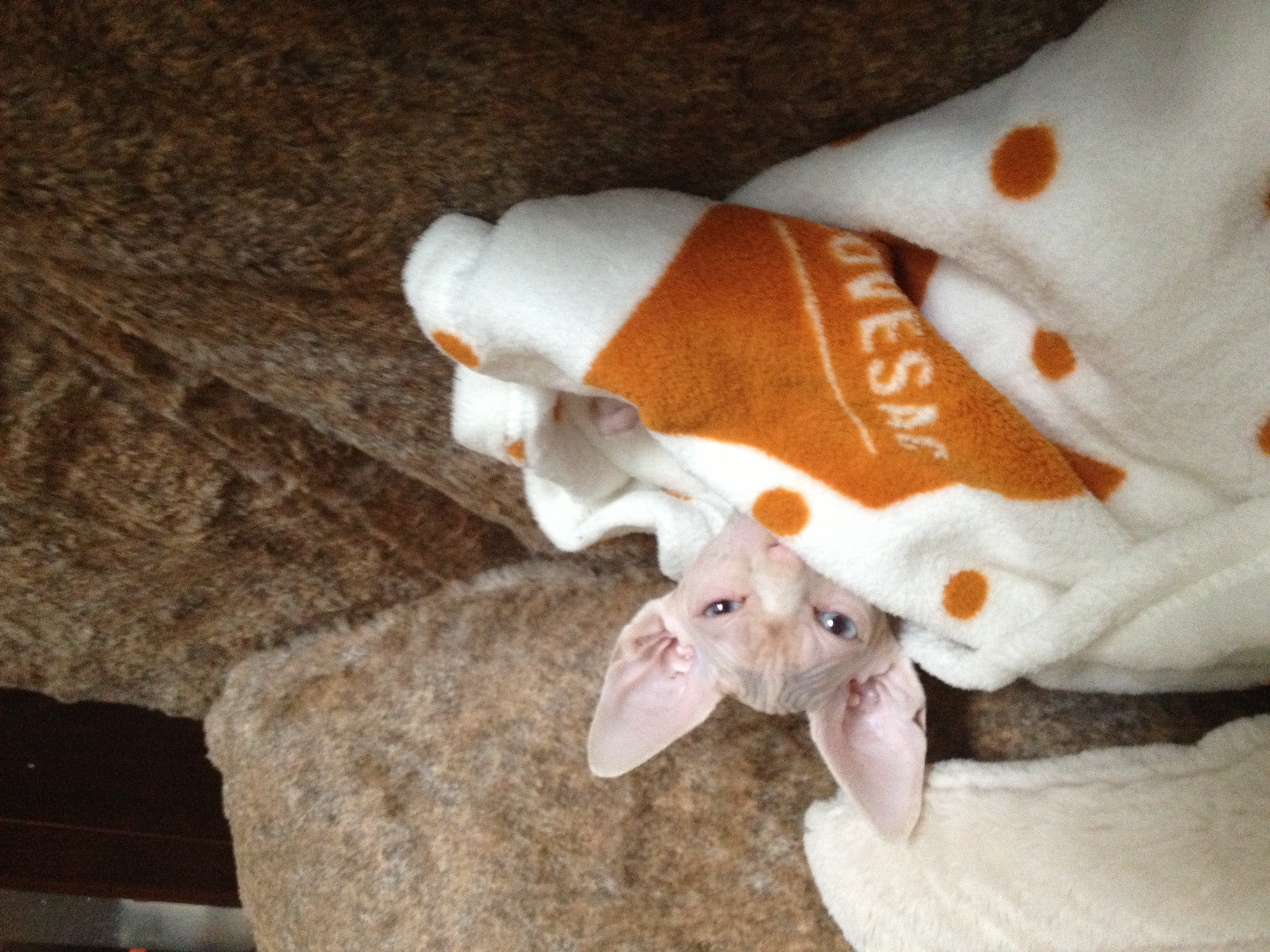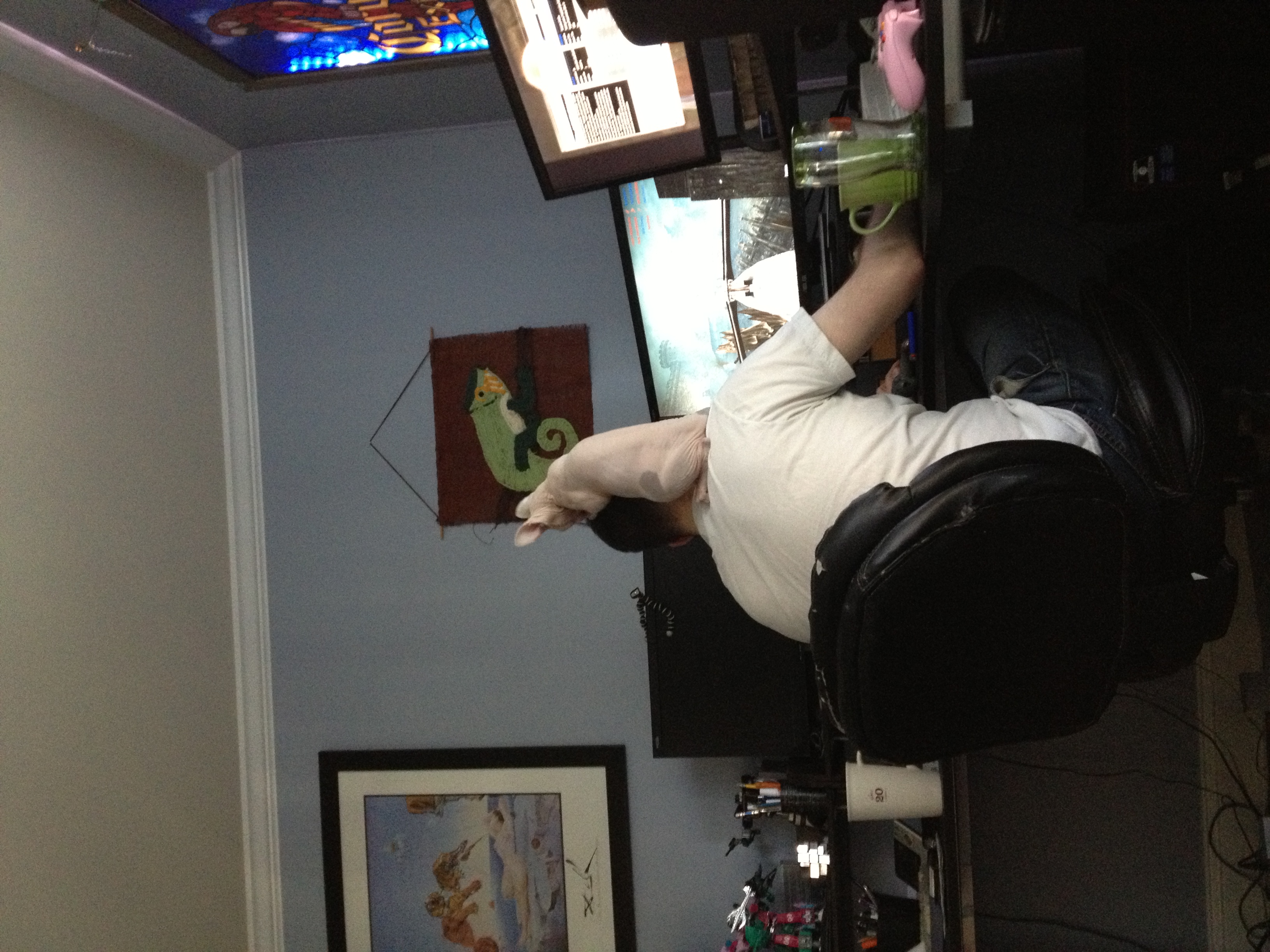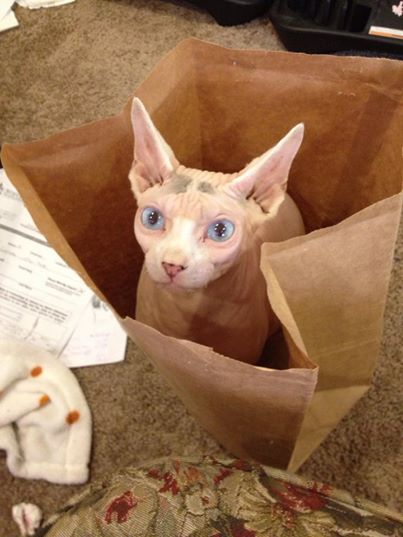 Yoda & Leia Scanned HCM normal 2014!
By Missy Cecil
Yoda and Leia made us their humans in December of 2012. Adopting from Emily was an absolutely wonderful experience. Before our litter was born, she kept us up to date with pictures of their mommy and daddy. Once the babies were born, we received pictures and updates. We flew to Emily's house and she was a wonderful host and let us spend time with our new kitties weeks before we were able to bring them home. They are almost a year old now and I still stay in touch with Emily and she quickly responds to any questions that I have.



Yoda and Leia have brought such joy to our home. There is never a dull moment with them around. They each have their own distinct personality and keep us laughing for hours. They both love to snuggle and are definitely lap kitties. When we get home from work we hear their meows and they run and greet us at the door, which melts our heart. They truly show unconditional love and affection.

We will never own any other type of animal besides a Sphynx . I can also attest to the benefit of getting two from the same litter. They are inseparable. It is adorable. If they can't find each other, they will "yell" for each other until they are found. I feel better knowing that when we are not home, they have each other to keep them company.
Click on thumbnails to enlarge to see more of Leia and Yoda.
by Lettie Stone

I contacted E

mily at Citizenkat

and received a call back from her Easter day 2011 about this adorable little kitten with markings that resembled Minnie mouse ears. I'd spent years dreaming of owning a Sphynx and my chance finally arrived! So we headed out to meet them and when we arrived we were so excited as she was an absolute little doll and very tiny at the time playing with her brothers. Then we met a little girl who wasn't but a couple weeks old that was just too cute with her dark colored complexion and fuzzier body compared to the other kittens running around. But, the little girl with Minnie mouse ears won my heart so eventually we started the journey back home to start picking out a name. I finally decided to call my sphynx girl "Sweet lil' Adeline" aka Addie!




July 1

st

came and I brought my little girl home for the first time. I felt like I was in heaven at this point because it seemed like this day would never arrive. A few days went by and she was a silent comedian. Then one morning she woke up and began to cry walking through the house and running up and down the stairs almost as if she was ready to leave. Everything I tried to do just wasn't enough for my little Addie and this went on for days. I felt horrible for her and hoped this phase would pass not only for me but for her as well.

I called Emily and she felt that Addie was lonely and calling for her litter mates. Addie had a half-sister she just loved to hang out with all the time which just so happened to be the little fuzzy girl we met the first trip to see Addie and she was available. So I talked it over with my husband and we agreed it was not an option to decide on a second kitten or not, it was Addie's and she had already been saying please!
July 28
th
finally got her and our little girl Maeva came home to Addie. Addie was so tickled pink to have her sister home. I think the feeling was mutual as they ate together and played all day long and part of the night. They are inseparable to this day.

My experience with my Sphynx girls has been quite hilarious and at times frustrating. They are just like toddlers. They bounce around doing little stunts. They are very acrobatic, mischievous, demanding & extremely loving. They will eat anything and everything insight and try to taste anything that is liquid!
Sleeping in a day or two a week gets canceled when you have children in the home. Needless to say their thoughts on waking me up isn't quite exactly what I thought it might be. If it's Maeva's day to do the waking us up - she will smack you with her paw or bite your nose. If Addie has decided to wake you up. She sits behind you and nibbles on your hair giving you that feeling something is crawling on you. So that's how are mornings at our house start off.
Addie my oldest will do flips and loves to arch her back up and run sideways! She is also the cook's helper as she enjoys sitting in a safe kitty place watching the food cook on the stovetop. She is a very sneaky little girl, as she sneaks up on everything very slowly. Sometimes I think she's going too slow as it seems she takes a step every 5-10 seconds. But she knows she's a momma's girl and proud of it. She has two favorite hobbies as of recently – playing on the beds while you are trying to make them and hanging from her kitty condo like a little sloth and when you walk by her she tilts her head to the side and tries looking up and the game of hold on and spin around the condo is on! She's very clumsy so I stay uptight every time she feels the urge to do this!
Maeva my youngest girl only by a month prefers to suddenly without notice startle people as she will catch you off guard and next thing you know you have this little girl on your shoulder's just behind your neck regardless if you're standing or sitting. Its almost like you're the magnet and she's the paperclip! She loves to play with her crinkly soft round doughnut shaped toys that she will flip in the air and swat at. It's like she's playing her own version of softball! But let's not forget the most amazing toy of all - the laser light!
I've always had your typical everyday cats in the past & they cannot compare to a Sphynx. Sphynx are truly like having children running around in your home. I've always wanted children in my life; just I never dreamed they would come on four legs!!!


_____________________________________________________________________________________________________
Naomi, Mozzie and Smudge
This piece is especially meaningful to me as Ron made this art with the three of them in this. This is an amazing piece and I love it. It hangs in my home as this art demonstrates the love they have for these cats.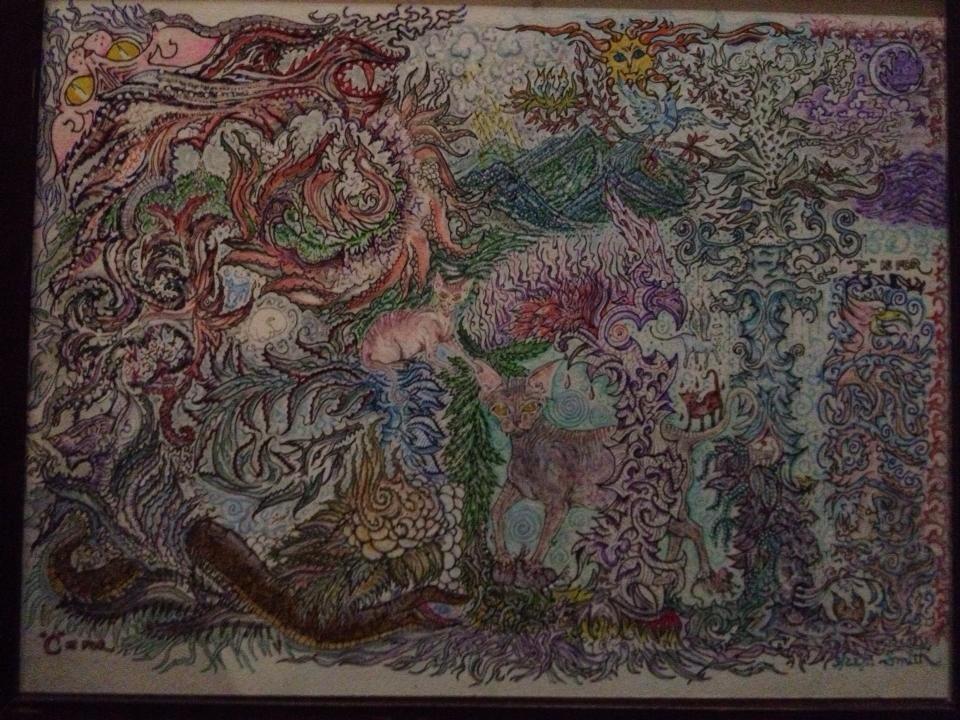 This is Citizenkat Happily Ever After aka Meisje - proud owners Katherine & Cassie took her to a CFA show February 2013 where she got these photos taken. She also did well at the show.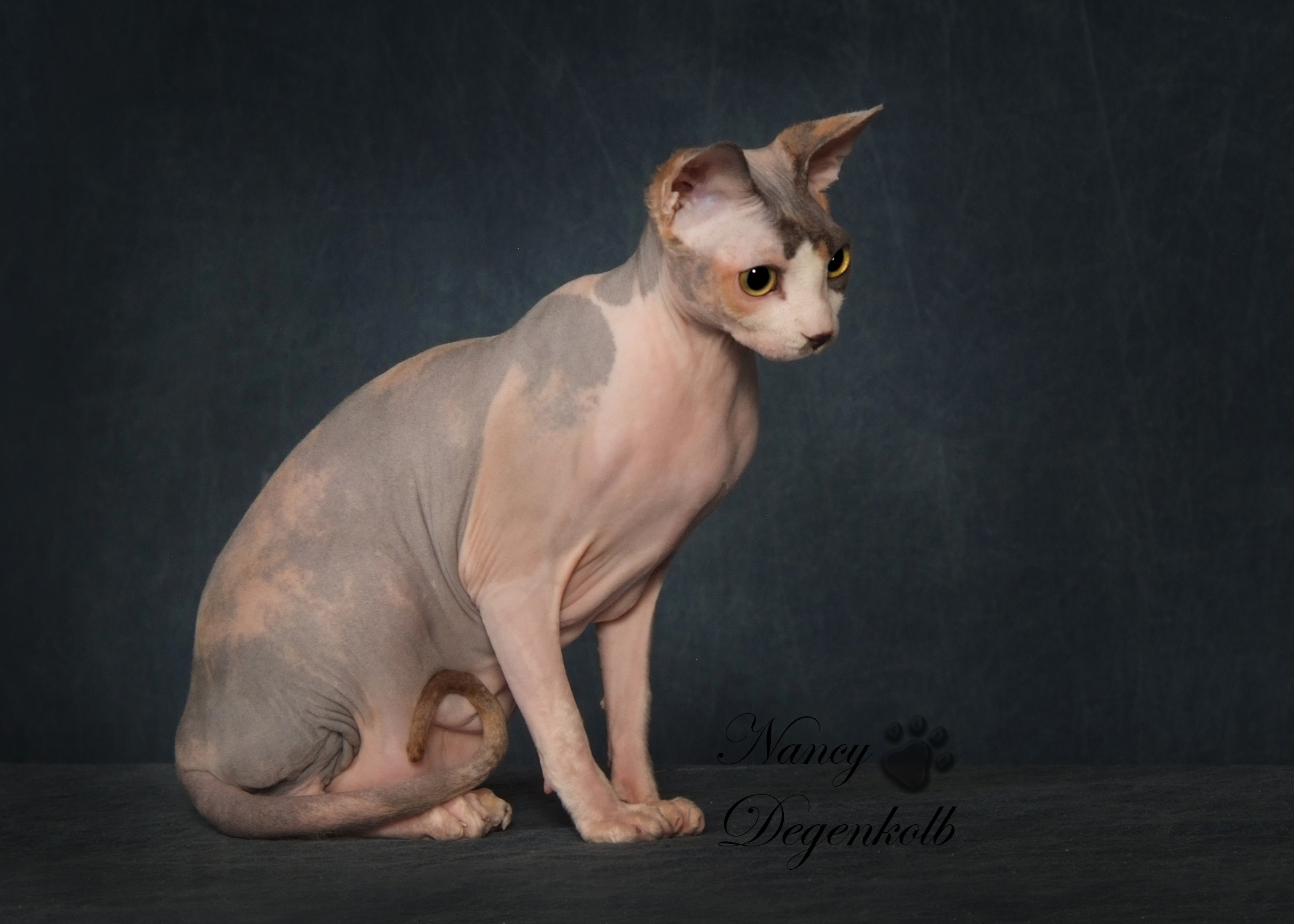 Meisje.... a little less dignified... literally shopping til she drops!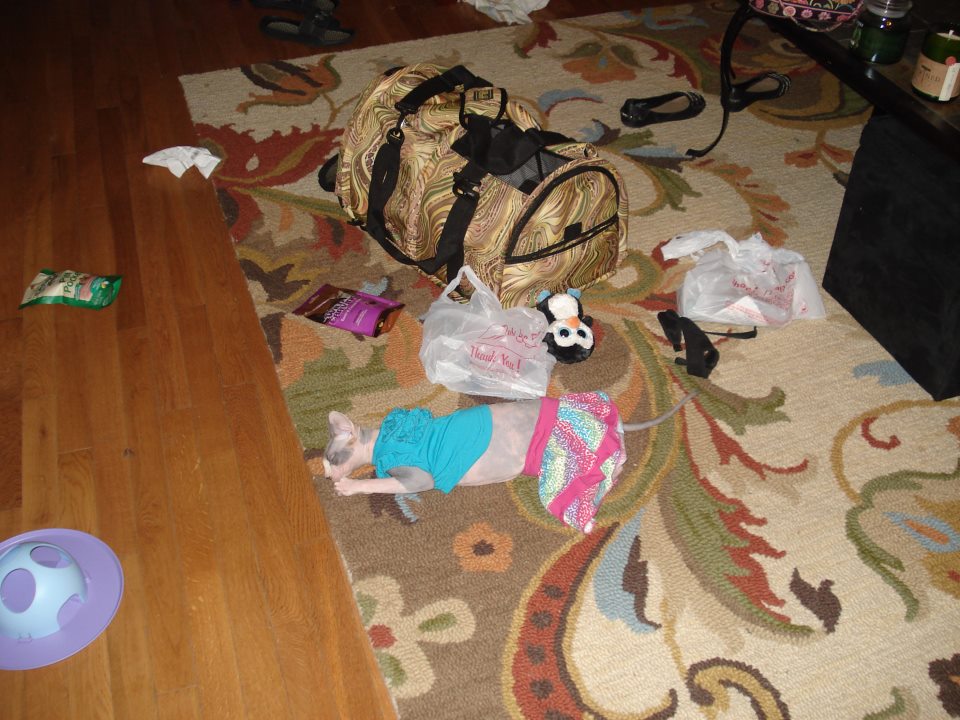 The wonderful "Blue Moose" living in his new home with Melissa:
"He has made himself right at home and is 100% loving every minute of it. He is the sweetest cat in the world, what a character! Even the vet loved his personality. He is so silly, playful, and such a love. He brings so much happiness to my home."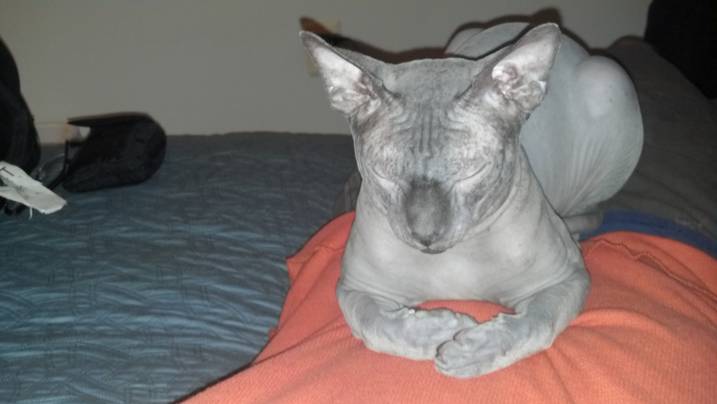 _______________________________________________________________________________________________
Tut living his new home:
"Tut was one year old yesterday. He's doing great and is a joy to have. His picture this morning."
_______________________________________________________________________________________________________
"Skindy Lou Who" - in her loving home in Kentucky with Kimberly.
all of us already. He loves playing with the kids, and is attached to my daughter he always wants to snuggle up with he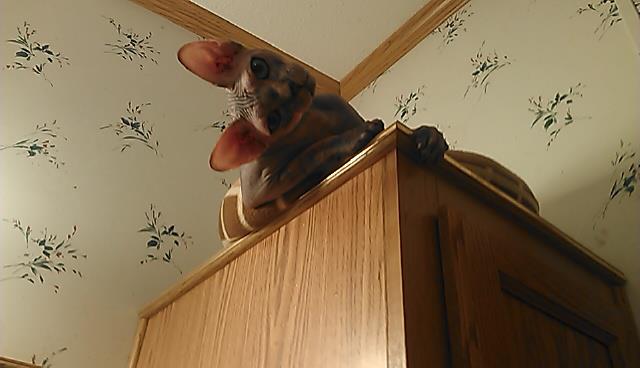 r, and he loves to tease my son and be boyish with him. R
Miss Calpurnia living in New England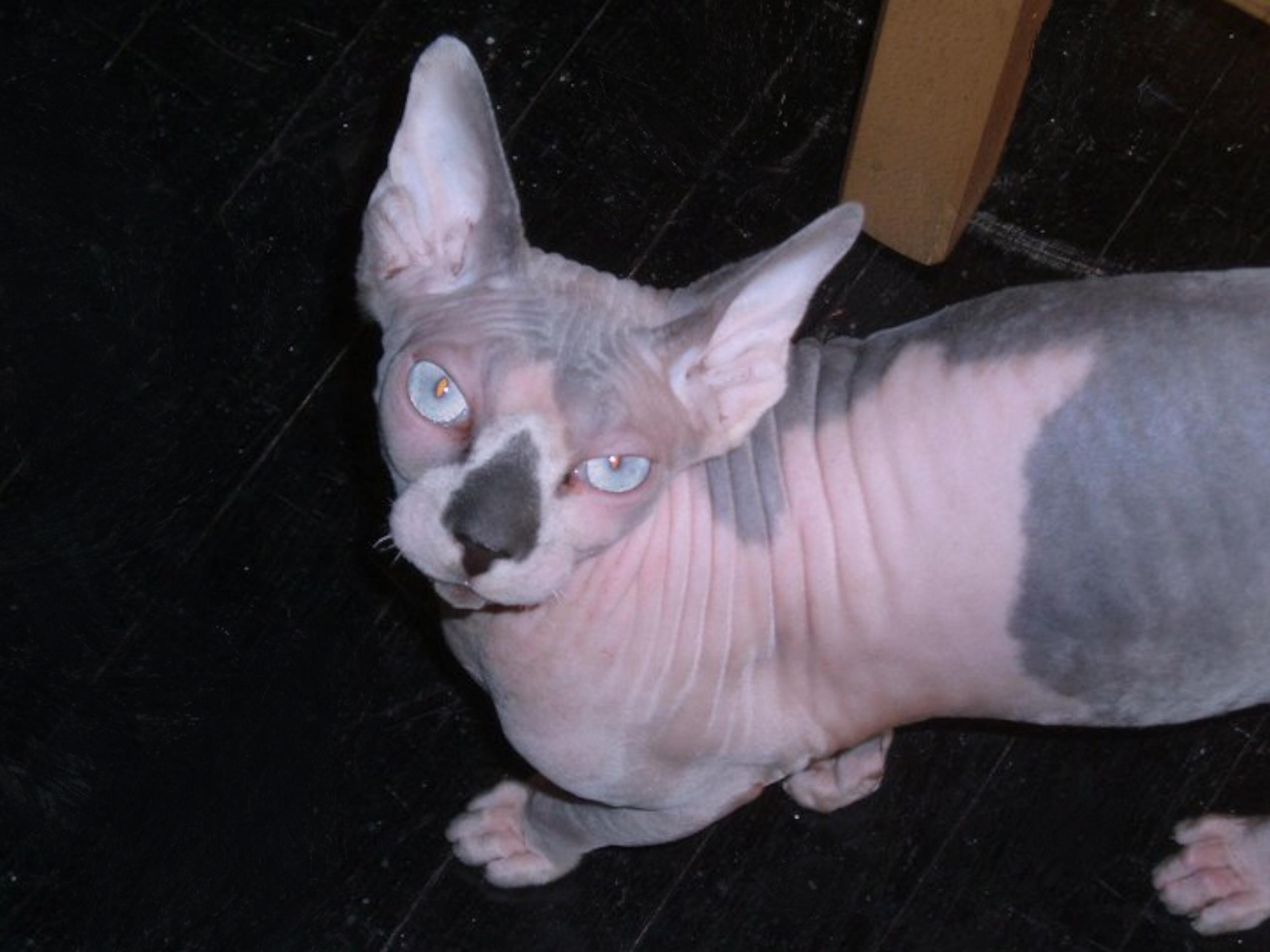 kid at chuck e cheese, full of spunk. "
Handsome Niko... Living with Brandi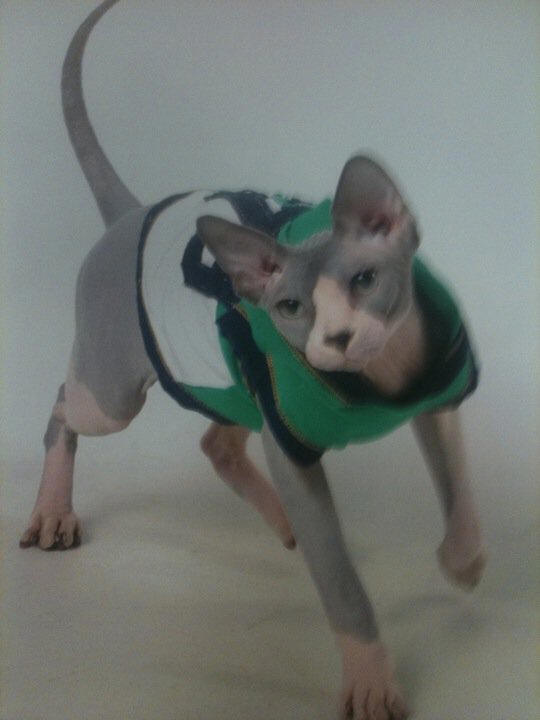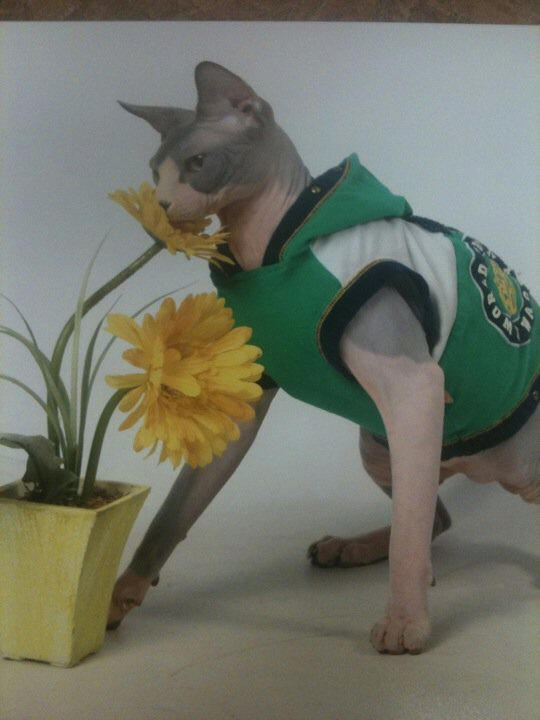 ________________________________________________________________________________________________________
This is handsome Carson... thank you Kris for these lovely professional photos!
_____________________________________________________________________________________________
Update! Carson got a new friend.... Bentley... these boys are just gorgeous!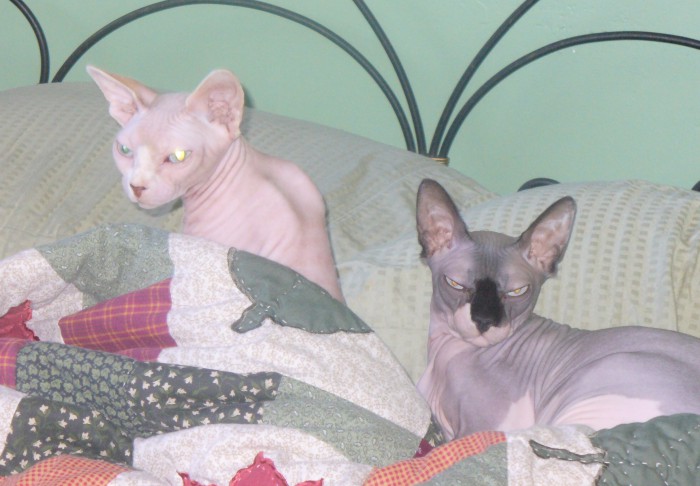 This is Velvet (fka Vicki) and Zoe (fka Marisol)... thanks to Lynn for these wonderful happy photos!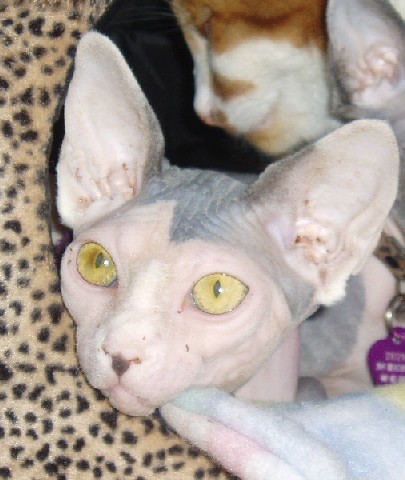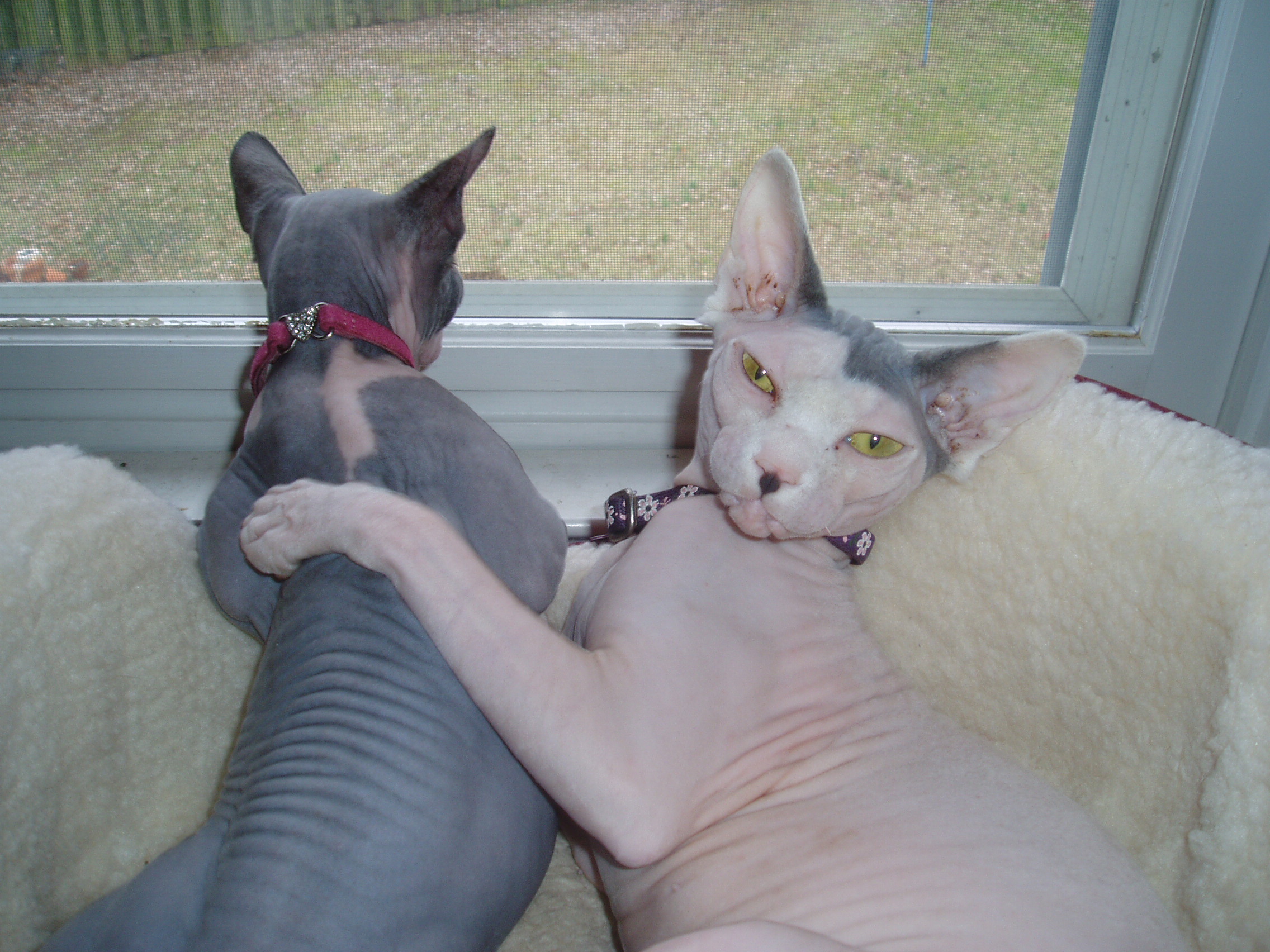 FKA... Calvin and Cayden... now known as Kevin and Gary... thanks to Michael and Michael!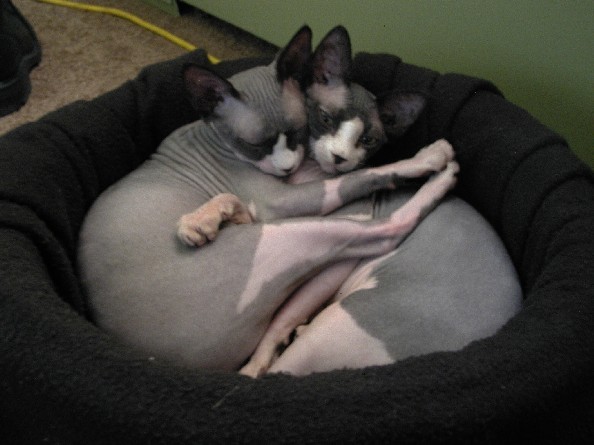 Here is Brady in his new home with Roman and Olga!!!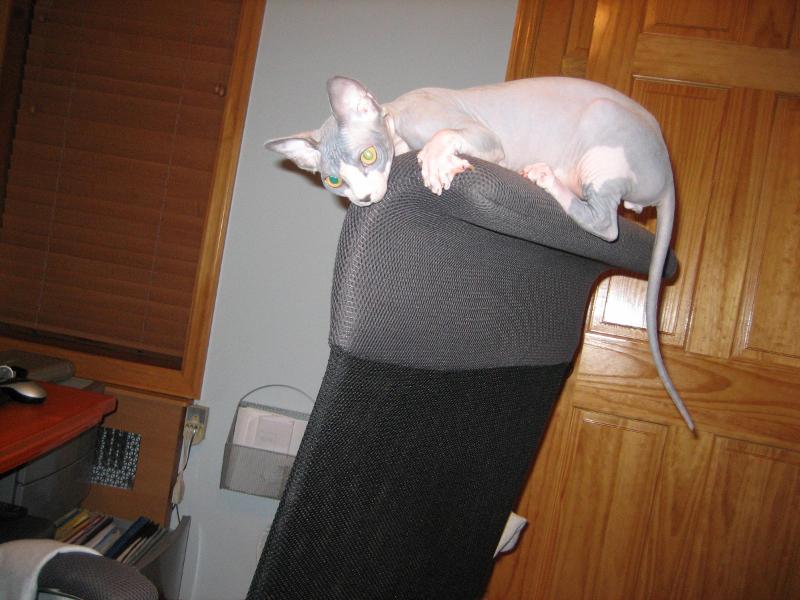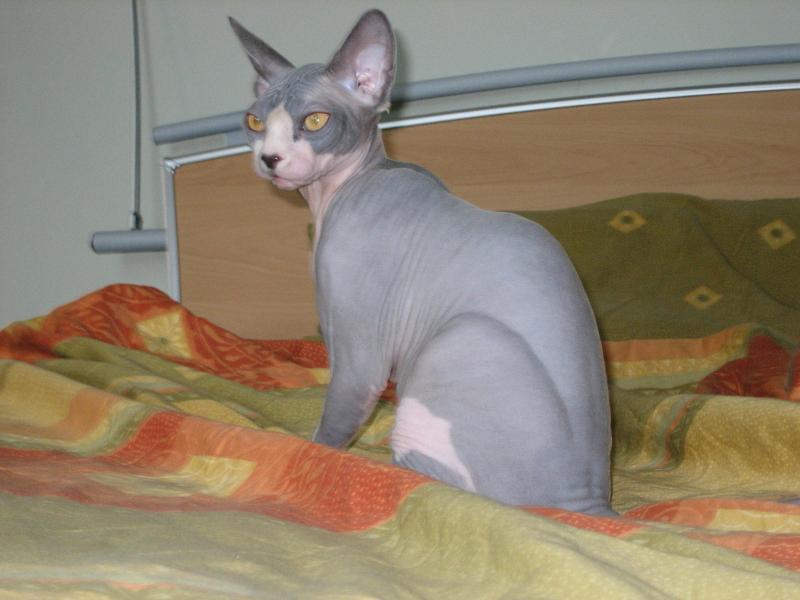 Anka fka Carmella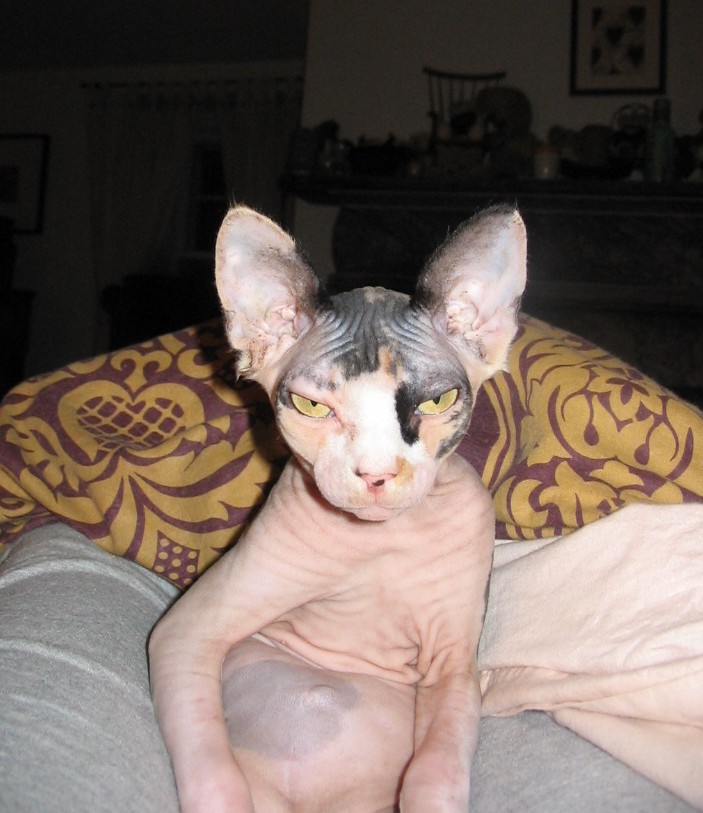 Liliana!
Being very, very studious!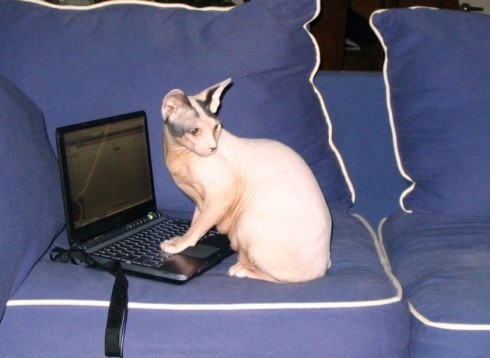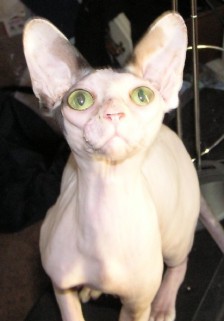 Brett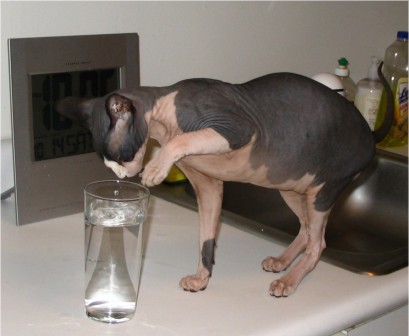 To go back Click here
Copyright (©) Citizenkat Sphynx, 2012, 2013.
No parts of this website may be reproduced without permission